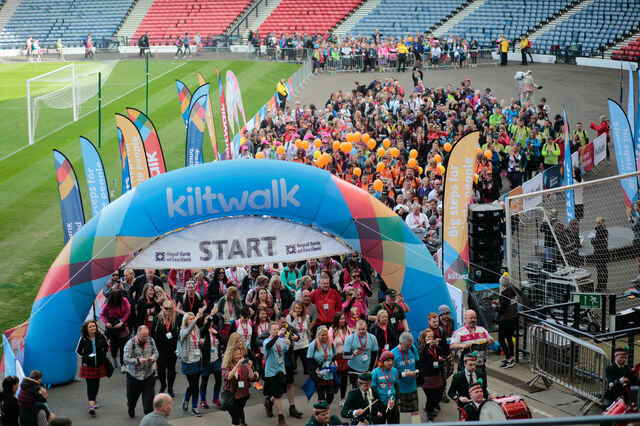 The Kiltwalk
EVENTS ACROSS SCOTLAND
IN-PERSON
Date:

-

Time:

09:00 - 10:00

Event fee:

£12.50 - £20

Fundraising target:

£150

Location address

Address:

Glasgow, Aberdeen, Dundee and Edinburgh (2024 dates and locations to be confirmed)
Sign Up
Get sponsored by your family, friends and colleagues to participate in events ranging from 3 to 26 miles.
The Edinburgh Kiltwalk was an amazing experience! It's accessible to everyone, no matter what your fitness level.
Ross Sansom, Waverley Care Kiltwalker
What's included?
All the support you'll need from Waverley Care,
Waverley Care t-shirt,
Walker Pack including your ID card, walker guide and route map,
Pit Stop snacks and refreshments, plus a hot meal at the end,
Entertainment on the route,
Encouragement along the way from the brilliant Kiltie Volunteers,
Kiltwalk finishers medal.
How to take part
Taking part is simple. Once the dates have been announced, choose your location and distance, then complete the form below to get your 50% off promo code. Register for the event on the Kiltwalk website, then let us know you're in.
If you have any questions about the Kiltwalk, please contact our fundraising team at fundraising@waverleycare.org or call 0131 556 9710.
By providing your details you agree to our Privacy Policy. We will use your data to process your Kiltwalk promo code and keep you up to date with the work of Waverley Care. You can update your details and contact preferences at any time.
If you'd prefer to request your code by phone, please call us on 0131 556 9710.