A massive thank you to everyone who generously dedicated their time and supported us at this year's festivals.
By pooling together all the fundraising efforts during the festivals in August, we anticipate that this year's final fundraising total will reach an impressive £61,427.56! These amazing contributions will play a crucial role in our mission to #GetToZero new HIV transmissions in Scotland by 2030.
The Pleasance Theatre
We are proud to celebrate over thirty years of partnership with The Pleasance Theatre and grateful for their passionate and inspiring support.
Waverley Care had an incredible 26 days of bucket-shaking at The Pleasance Courtyard this year, from August 2nd to 28th. With the support of over 130 volunteers and 9 corporate teams, we raised an impressive £33,191 through bucket collections alone. Special thanks go to our dedicated volunteer coordinators: Lucy, Emily, Ben, and Juliette.
We are so grateful to everyone who volunteered with us, whether you were shaking a bucket or assisting us behind the scenes – we were blown away by your constant support and enthusiasm. Our Fringe team collectively contributed 916 hours at The Pleasance Courtyard.
Despite facing challenging Scottish weather, bustling crowds, and sold-out shows, our volunteers persevered. We hope that the fantastic fundraising efforts made it all worthwhile! Along the way, they had the pleasure of meeting and receiving donations from celebrities and performers such as Mark Watson, Dara Ó Briain, David O'Doherty, Amelia Dimoldenberg, Glenn Moore, and Daniel Sloss.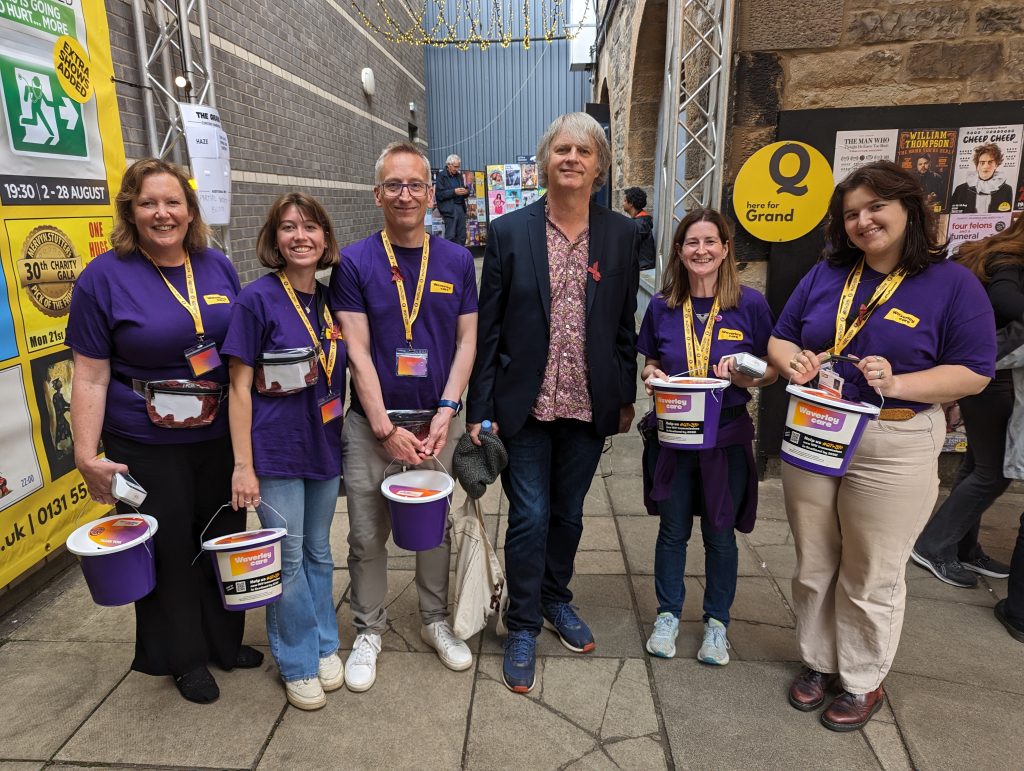 Big Corporate Shake Up
A special thank you to the teams that participated in our Big Corporate Shake Up, Edinburgh's best workplace challenge during the Fringe! We were proud to host teams from Wood Mackenzie, Lloyds Banking Group, TSB, NatWest, abrdn, Morgan Stanley, Scottish Widows, Baillie Gifford, and Heineken.
It was fantastic to see colleagues come together outside of their usual work setting, and we're thrilled to announce the winners! NatWest secured third place with an impressive £949, while Wood Mackenzie claimed second place, raising an incredible £1,045. The first-place honor went to Baillie Gifford, who raised a phenomenal £1,547. We were delighted to present Baillie Gifford with their well-deserved trophy. Now, the question is, can someone challenge them in 2024?
Tartan Ribbon Comedy Benefit
The Tartan Ribbon Comedy Benefit, a beloved Fringe tradition, returned to The Pleasance once more with an incredible lineup including Nick Mohammed as Mr. Swallow, Ivo Graham, Andy Parsons, Shaparak Khorsandi, Janine Harouni, Daniel Foxx, Garrett Millerick, and Ania Magliano. A big thank you to all those who bought tickets and filled the theatre with laughter and smiles.
In addition to our fundraising efforts, we were excited to engage the public in our new #GetToZero campaign, generating significant interest in Waverley Care's ongoing role as a key provider of HIV support and awareness in Scotland. It was heartwarming to see many audience members proudly wearing their Tartan Ribbons, a symbol of Waverley Care since the early 1990s.
Thank you to all the Pleasance Dome shows who took their own purple Waverley Care bucket to fundraise with their audiences. We're immensely grateful to Young Pleasance, Diana: The Untold and Untrue Story, Mr and Mrs Love, and Dough.
Thanks to the dedication of our volunteers, the passion of performers, production teams, and crew, as well as the generous support from The Pleasance Theatre, we estimate our fundraising total for this month at this fantastic venue will reach £51,384.90!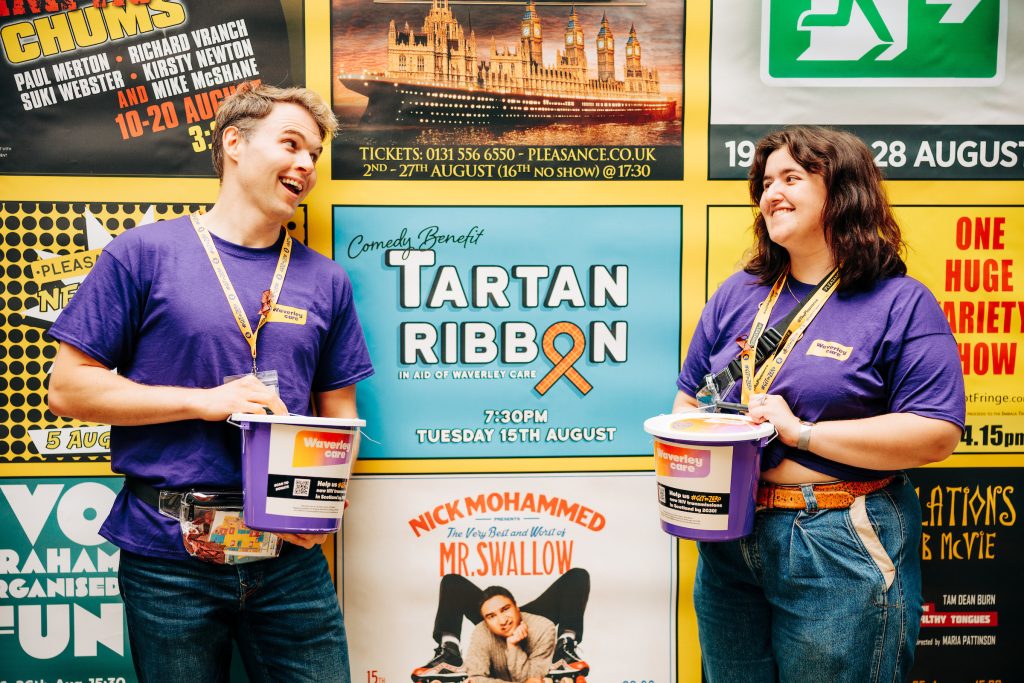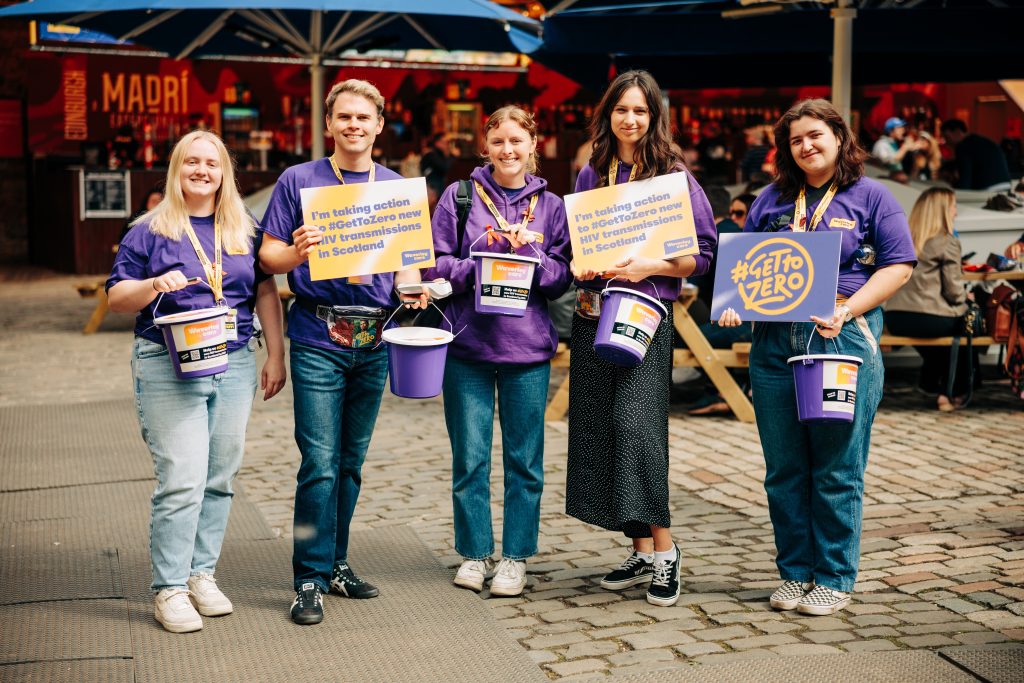 We are incredibly proud to support the charity's amazing work, knowing these funds help to deliver life changing services to those living with HIV in Scotland. We know there is more to do and look forward to continuing to support their great work
Anthony Alderson, Director of the Pleasance
Elsewhere at the Fringe
In addition to our successful fundraising at The Pleasance, we've been fortunate to receive tremendous support from local theatre companies across Edinburgh. Their dedication to raising funds for Waverley Care in August has been outstanding, with a collective £6,008.89 raised through bucket collections alone!
The Edinburgh Playhouse
For the last year, we have been thrilled to be Edinburgh Playhouse's charity partner. Their Front of House staff have played a crucial role in collecting donations for Waverley Care – during three performances by the renowned comedian Jack Whitehall in August, their team raised £113.90.
Captivate Theatre
This August, we welcomed Captivate Theatre into the Waverley Care family through their five remarkable productions of Matilda, School of Rock, Les Misérables, Sunshine on Leith, and The Hunchback of Notre Dame. With their cast collecting donations after each show, along with the generosity of their audiences, Captivate raised an impressive total of £3,452.49. We're excited to continue this partnership and anticipate great things at the next Fringe.
The Bohemians
For over two decades, The Bohemians Lyric Opera Company has been a proud supporter of Waverley Care. Through bucket collections at two outstanding performances of Absolutely Iconic, a show featuring iconic musical theatre songs, The Bohemians raised an impressive £570. We are grateful for their continued support and look forward to their next production of Sunshine on Leith at the Church Hill Theatre in March 2024.
BBD Productions
This Fringe, we were delighted to welcome BBD Productions into the Waverley Care family. Through their five-star hit show Divas: From Stage to Screen, they raised an incredible £558.13 during their run at The Gilded Balloon. We want to sincerely thank this production for supporting our charity with their exceptional vocals and timeless classics. Thank you, Divas!
Pretty Knickers Productions
The five-star sell-out hit show Salamander made its return to the Edinburgh Fringe this year, raising £853 for Waverley Care through the passionate cast and fantastic audience support. Inspired by a 1983 unsolved murder in Leith, Salamander celebrated the underrepresented through original poetry and song. We are proud to be part of such a powerful show, and we thank Pretty Knickers Productions for their dedication.
Bare Productions
We are so proud to have been working alongside Bare Productions in their latest production of RENT this Fringe Festival. After a run of five-star, sell-out shows, they raised an amazing £459.67 from bucket collections after their shows! We also delivered workshops to the cast alongside this to deepen their understanding of HIV and help them in their storytelling of this iconic musical. Thank you, Bare Productions, for choosing us as your charity partner again.
Volunteer with us!
Did you enjoy volunteering with us at the Fringe? Why not consider becoming a part of our volunteer team? We are currently recruiting for various volunteer roles and would love to hear from you.
Volunteer