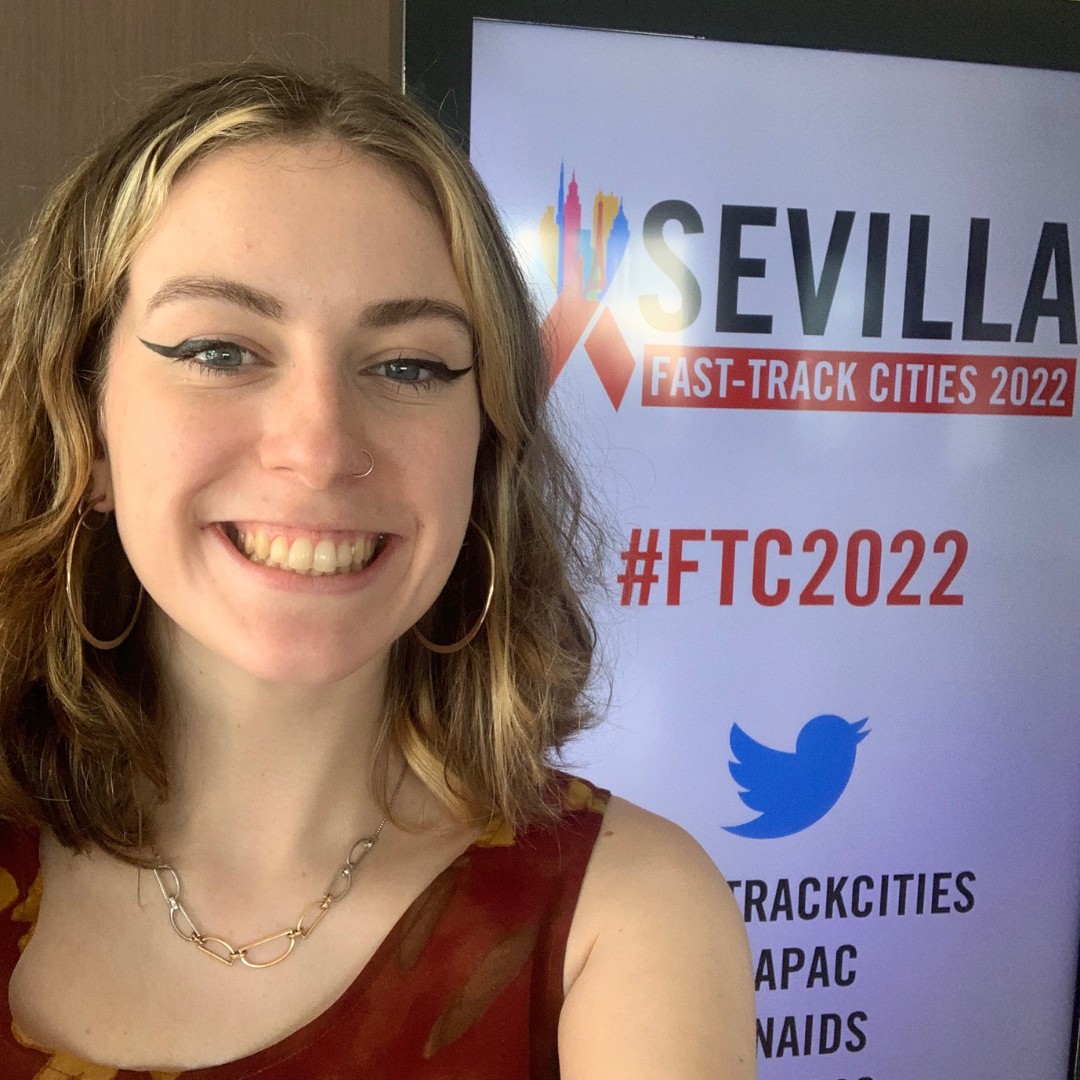 Insight into Fast-Track Cities 2022
From 11th-13th October 2022, Waverley Care's Policy and Campaigns Officer Anna Cowan attended Fast-Track Cities 2022 in Sevilla. In this blog, Anna discusses her experience at the conference.
The Fast-Track Cities initiative is a partnership between cities around the world aiming to reach zero new HIV transmissions and zero AIDS-related deaths. Through the initiative, cities can collaborate and share ideas about widening access to treatment, providing support to people living with HIV, and eliminating new transmissions.
Last year, the Fast-Track Cities Conference took place in Sevilla, Spain from Tuesday 11th – Thursday 13th October. Over the three days, I attended a number of fascinating panel sessions with representatives from across the globe – Mexico City, Lagos, and Nantes, to name a few – each with their own perspectives on and approaches to achieving zero transmissions. Cardiff introduced a 'Texting 4 Testing' system allowing GPs to send short messages about HIV testing, and Pittsburgh implemented needle exchanges and safe injecting sites.
Not all cities had found similar successes though– Kwazulu-Natal in South Africa, for example, had struggled to reduce transmissions because of complex risk factors like poverty, limited social mobility, and poor access to healthcare resulting from the legacy of apartheid.
Across the conference, one common theme was community. Solange Baptiste, Director of the International Treatment Preparedness Coalition (ITPC), stressed the importance of community-led, rather than community-based, approaches to reducing HIV transmissions. This will ensure, she said, that people living with HIV are given a platform to guide the policy decisions that will affect their lives.
Similarly, the theme of stigma as a barrier was expressed by all cities represented at the conference. Dr Elena Vaughan, from the University of Galway, presented research showing that only 20% of healthcare facilities in Ireland have an anti-stigma policy. In her presentation, she posed the question 'How do we measure stigma?' to which International Association of Providers of AIDS Care (IAPAC) President José M Zuniga responded, "we cannot fix what we cannot measure." Indeed, more needs to be done to accurately measure the level of HIV stigma that exists.
It felt amazing to represent Scotland at the Fast-Track Cities Conference 2022, a country that has the potential to be a world-leader in the elimination of HIV transmission. It is in the hands of our policy makers and government officials.
However, the conference also served as a reminder that, while the achievement of zero HIV transmissions is within Scotland's reach, for many countries around the globe the issues of poverty, stigma, healthcare inequality, and discrimination continue to threaten this target.
For now though, I am looking forward to using the lessons from the conference to work towards achieving the Scottish Government's target of zero new HIV transmissions in Scotland by 2030.