Got a great idea planned and just need a few tips to make everything go smoothly? We can help you out no matter what stage your fundraising is at.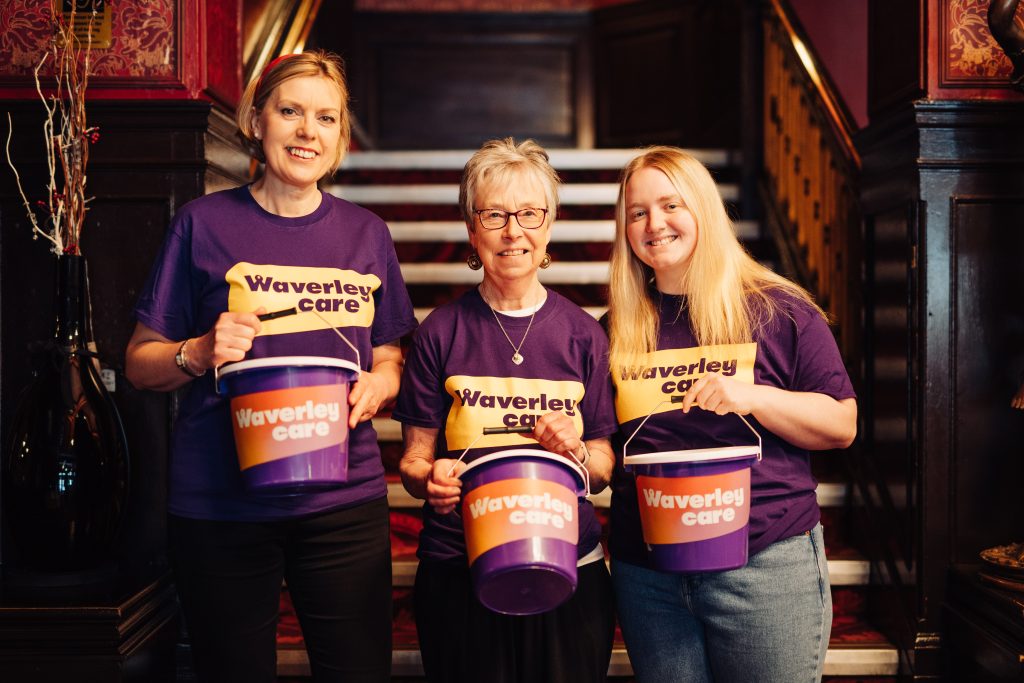 Online fundraising
Setting up an online fundraising page with JustGiving is easy and it's a great way to fundraise for Waverley Care.
Tell your story. Don't be afraid to share your reasons for fundraising.
Set a target. We've found that pages with a target raise 17% more. It's a great motivational tool for you, and encourages your supporters to help you reach your goal. Aim high!
Make a donation. People who get started by making a donation to their own page raise a whopping 84% more. It's also a great idea to ask a friend or family member to make a donation as other people are likely to see this and donate a similar amount.
Share your page. Don't rely on people seeing just one post on social media. Let people know about the good stuff you're doing.
Say thank you. 20% of donations come in after your event has ended, so make sure you follow up by thanking your supporters. You can update the story on your page, post on social media or send messages via WhatsApp or email. It's a great way to let people know how your fundraising went and about the difference their support will make to Waverley Care.
Hosting an event
If you're thinking about hosting an event for Waverley Care, here are a few things to think about.
Book a date. Speak to the people you want to invite and choose a date when they are available. Remember to give yourself plenty of time to organise everything. Have a look at what else is happening in your area and try not to clash with another similar event.
Secure a venue. Think about what space you need and consider your budget. If you need to pay, will you be able to raise enough money on the day to justify the cost? Don't forget you may get a reduced rate if you mention you're fundraising.
Stay safe. Find out whether your chosen venue has the relevant licences and health and safety procedures.
Your guests. Think about your target audience and venue capacity. Send personalised invites and give people plenty of notice. It's a great idea to send reminders closer to the date too.
Materials. Do you need to buy anything? Can you borrow materials from someone you know? We can provide a limited number of t-shirts, collection tins and banners, but create a checklist so you don't forget anything.
Fundraising. As well as raising awareness, the goal of your event is to fundraise. Think about what you can do at your event to collect donations. Could you sell tickets, organise a raffle or host a cake sale? We recommend creating a JustGiving page for people who can't attend but would still like to donate.
Thank you. Make sure you say a huge thank you to everyone who supported your event. Whether they donated a prize, volunteered their time or came along and took part. Send your donations to Waverley Care as soon as you can, and email us any photos you're happy to be shared on social media. You might find yourself on our website too!
Keeping it safe and legal
As well as supporting your fundraising, we want to make sure your efforts are safe and legal.
Branding. Please be sure to say that you're fundraising 'In aid of Waverley Care'. You should specify that all donations will go to Waverley Care, Scottish Charity No. SC036500. Contact us to request our logo.
Insurance. As your event or activity hasn't been organised by Waverley Care, you'll need to make sure it's covered by insurance. This might be organised by your venue or employer, but please check to find out.
Raffles. Raffles and prize draws are a highly regulated area. If you only sell tickets on the day, spend less than £100 on costs, donate all proceeds to Waverley Care and draw a winner on the same day, you don't need a license. If you'd like to organise a raffle over a longer period, or draw a winner on a different day, we can set-up a text raffle for you.
Health and safety. If you hold a fundraising event you will be responsible for the health and safety of all involved. The Chartered Institute of Fundraising has useful information on this.
Licenses. It's important you check if you need licenses to host an event, such as for putting up banners in your local area or playing live music.
Collections. Collections are a great way to raise money. If you're planning a street collection, you'll need to speak to us and request a permit from the council. It's much easier to organise a collection that takes place on private property – you'll still need permission, but from the owner or business. Donations must be collected in sealed containers. Please contact us to request a bucket.
Counting your donations. You need to ensure that you're safe when handling money. We'd always recommend that you have two people present when cash is being handled. Please keep any donations in a secure container and pay in your fundraising as soon as possible.
Remember, we're here to help. If you'd like some advice, please contact our fundraising team at fundraising@waverleycare.org or call 0131 556 9710.
Paying in your donations
Thank you for fundraising! Now that the hard work is over, it's time to pay in your donations.
Online – You can quickly and easily pay in your money online on our website. You can tell us how you've been fundraising in the message box.
By post – If you collected donations in cash, you can send a cheque to Waverley Care, 113 Oxgangs Road North, Edinburgh, EH14 1EB made payable to Waverley Care.
By bank transfer – To make a bank transfer to Waverley Care, contact our fundraising team to request our details. Call 0131 556 9710 or email fundraising@waverleycare.org.
JustGiving – If you've used JustGiving to fundraise, your donations are automatically sent to us. Just sit back and relax!
Did we miss anything?
If we've missed something, or you'd like additional support, please get in touch.
Get in touch