Thank you to everyone who donated to Waverley Care to mark Pride month in June! Whether you dropped your spare change into our collection tin, indulged in a fabulous Pride cocktail, or tapped to donate in your favorite bar, we can't thank you enough. Your support will play a significant role in helping us achieve our goal of zero new HIV transmissions in Scotland by 2030!
We would like to thank…
Edinburgh Pride
A very purple team of volunteers, staff and supporters joined Waverley Care at the Edinburgh Pride March. We marched alongside MAC and the Thebans, celebrating the vibrant LGBTQ+ community in Scotland. Meeting so many of you and being part of the electric atmosphere was truly awe-inspiring.
At our community stall, we spoke to 260 people, sharing our goals of getting to zero and distributing condoms, stickers and badges. A special thank you goes out to our extraordinary volunteers who proudly sported our brand new Waverley Care t-shirts, making the march an unforgettable community experience!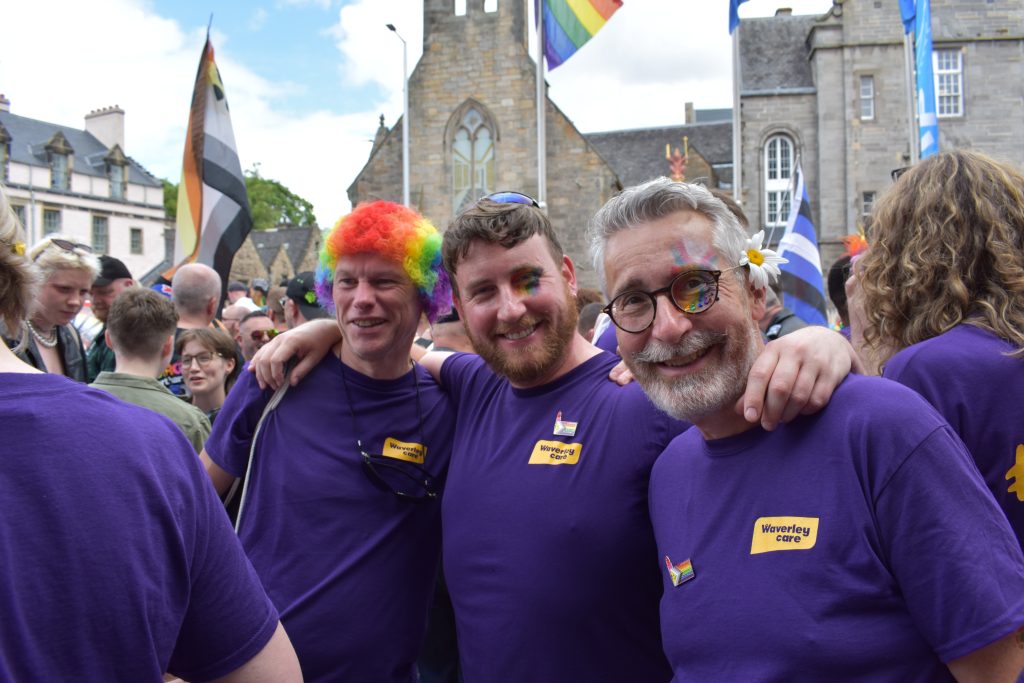 Nuffield Health
On June 23, Nuffield Health at the Edinburgh Omni Centre reopened their stunning Cycle Studio with a 75-minute Spinathon Cycle Challenge in support of Waverley Care. The incredible staff and members of Nuffield Health made so many generous donations, raising an astounding £133!
Our huge thanks go to Nuffield Health for their unwavering support this Pride, and a special shoutout to Phil and Jaz, who led the Spinathon, leaving us all gleefully sweaty and smiling from ear to ear!
Lloyds Banking Group
Later in the month, on June 27, Lloyds Banking Group held a monumental fundraising day for Waverley Care. With matched funding, the generous LBG colleagues donated over £600 to Waverley Care through their Pride hamper raffle, sales of rainbow cupcakes and having a whack at the Pride pinata.
Thank you to everyone involved in organizing this phenomenal day, with a special mention to Lauren Keay and Callum Brown for leading on the event. Your commitment to our cause is truly inspiring!
Gaucho
Throughout Pride month, Gaucho in Edinburgh served up their Pride & Joy cocktail in support of Waverley Care. They will be donating an incredible 50% of each sale of their "taste of summer" cocktails to Waverley Care and we can't wait to see how much they have raised!
A huge thank you goes out to the entire Edinburgh team at Gaucho, as well as DJs Dale Lush and Zak Riding, for their instrumental role in making the two Gaucho Lates: Pride Edition events such a wonderful success!
CC Blooms, Planet, The Street, The Regent and Habana
We were so excited to relaunch our collection tins and contactless donation devices at CC Blooms, Planet, The Street, The Regent, and Habana, just in time for Edinburgh Pride! Showcasing our fresh new look, these beloved venues provided an easy way for everyone to support our cause and be there for anyone affected by HIV in Scotland.
Thank you to our loyal and passionate venue partners in Edinburgh for their unwavering support. We are very excited about the plans we have in store with these bars this year!
Fore Play Crazy Golf
Our collaboration with Fore Play Crazy Golf in Edinburgh back in 2022 was an absolute delight, and we were thrilled to learn that they were once again fundraising for Waverley Care, this time with their Pride cocktail – 'Taste the Rainbow'! In a matter of just a few weeks leading up to their rebranding as Fayre Play, this cocktail raised an impressive £256.
A huge thank you goes out to Ross, Ciara, Annie, and the entire team for their incredible support. We can't wait to see what they have in store for us next year!
The Real Mary King's Close
Pride History Tours made a triumphant return at The Real Mary King's Close, celebrating the hidden histories of LGBTQ+ community life in Edinburgh from the mid-16th century to 1912. We were thrilled to receive a remarkable donation of £1,250 from The Real Mary King's Close.
We had pleasure meeting the team and hearing about their commitment to work with charities that support the health and well-being of the community. Their support means the world to us!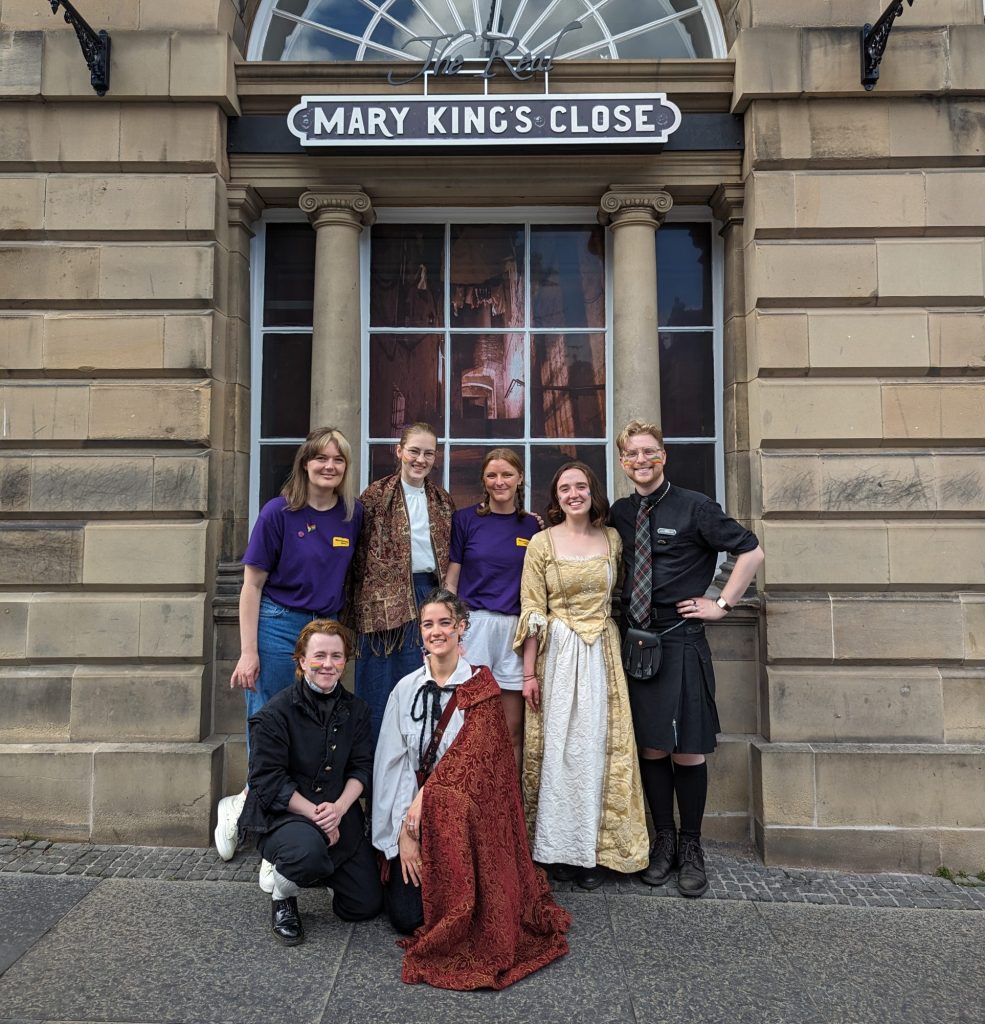 Redbell Experience x Syb Co
Redbell Experience joined forces with Syb Co to organise 'Pre's of Pride' night at Polo Riding Room, featuring some of Glasgow's most beloved drag queens. The event was a spectacular showcase of talent, featuring Slut Drop Sally, CJ Banks, Brandi Bar, Birdie Burd, Miz Little Spice and Glasgow's very own resident fire breather and dancer extraordinaire, Kay Sea.
Thank you to everyone involved, including the amazing local organizations and volunteers who donated prizes for the raffle – you helped raise an outstanding £576 for Waverley Care!
Mardi Gla
On July 15th, Waverley Care, along with a wonderful group of volunteers, took to the streets of Glasgow for Mardi Gla. We had an absolutely amazing time, marching through the city centre and connecting with countless people at our stall! A heartfelt thank you goes out to everyone who joined us, spreading the word about our #GetToZero campaign in Glasgow. We would also like to extend a special thank you to MAC Glasgow for their fantastic Pride makeup and for proudly marching alongside us!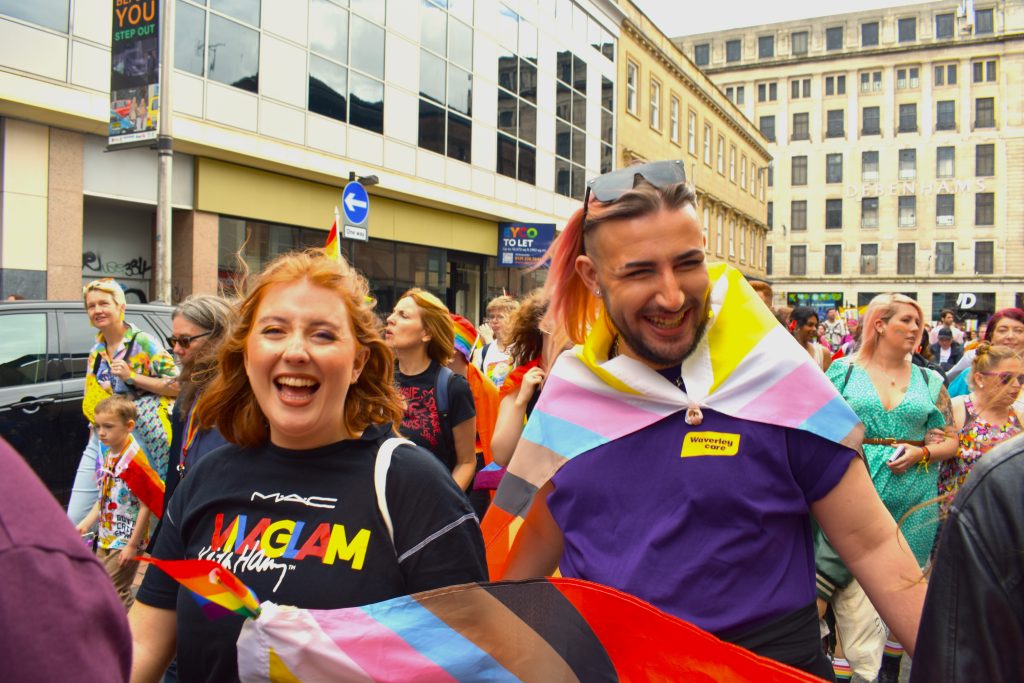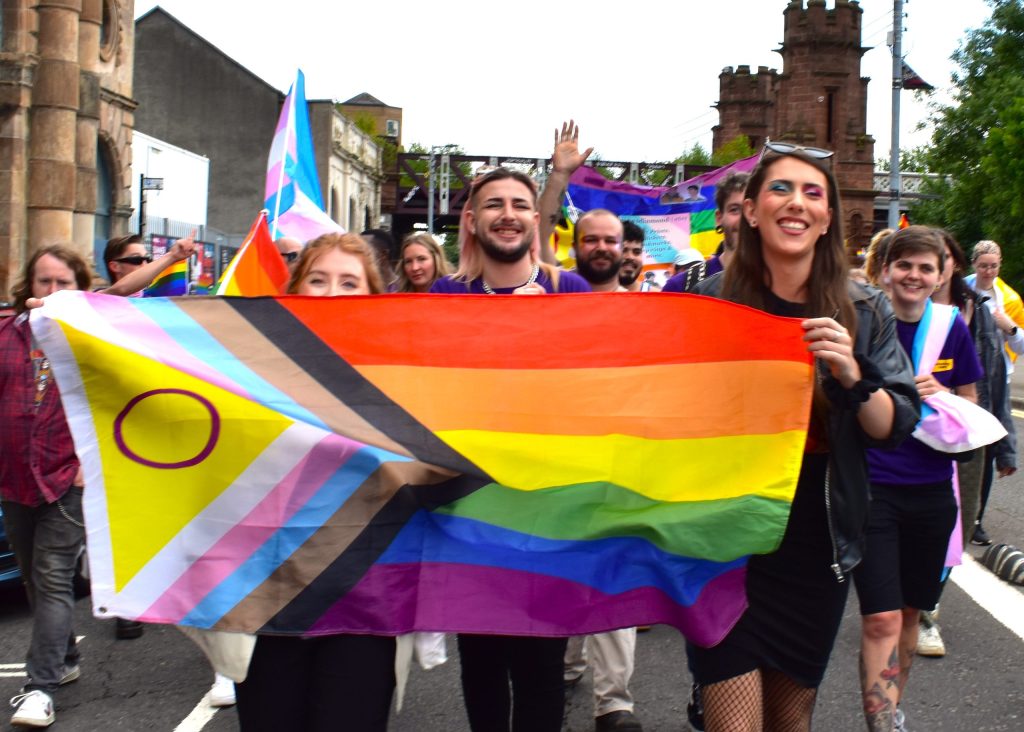 Volunteer with us at the Fringe!
Did you enjoy joining us at Pride? Why not join us for the Fringe! We are currently recruiting volunteer bucket shakers for this year's Fringe, and we would love to have as many people involved as possible
Join now!