From its introduction in the early 1990s, the Tartan Ribbon

has been

an iconic and important part of Waverley Care's history and fundraising

, acting as a

symbol of HIV awareness

across Scotland.
Courtesy of Lothian Health Services Archive, University of Edinburgh
The
o
rigin of the
r
ibbon
During the 1990s, it was said that ribbons had "taken over from buttons and stickers" for showing someone's commitment to a good cause. Ribbons have historically been a powerful tool for raising awareness and consciousness of causes, with different colours and patterns being associated with various issues.
In 1991, a group of activists in New York wanted to design a meaningful symbol during the height of the AIDS crisis to signify their support for those impacted by the epidemic. This led to the creation of the red ribbon, which is now an internationally recognised symbol of HIV awareness. The ribbon became a "visual expression of compassion" for those with HIV, increasing public awareness of the virus and paving the way for many other ribbon awareness projects. The ribbon made people simply just talk about AIDS during a time where no one did, leading it to eventually become the emblem of World AIDS Day.
In 1995, Scotland put its own spin on the red ribbon. An article in the Sunday Mercury wrote that Waverley Care created "its own version of AIDS awareness" through Scotland's very own Tartan Ribbon. With a tartan designed specifically for the charity, the ribbon added a Scottish dimension to AIDS activism.
Annual Review 1994-1995, Courtesy of Lothian Health Services Archive, University of Edinburgh
Annual Review 2002, Courtesy of Lothian Health Services Archive, University of Edinburgh
Becoming the s
ymbol of Waverley Care
Despite the changes to Waverley Care's look over the years, the Tartan Ribbon has remained a consistent symbol of the charity. The first images of the Tartan Ribbon in use at Waverley Care date back to the early 1990s, with its influence continuing to grow every year. It has been a central feature of many campaigns and has featured in newsletters, merchandise, and t-shirts.
The Tartan Ribbon has also been widely distributed to all those who have supported us: from politicians to performers, corporate partners and our amazing volunteers. It has served for decades as a symbol of unity which unites our ever-growing Waverley Care family under one simple goal: to be there for anyone living with, or affected by, HIV and Hepatitis C in Scotland.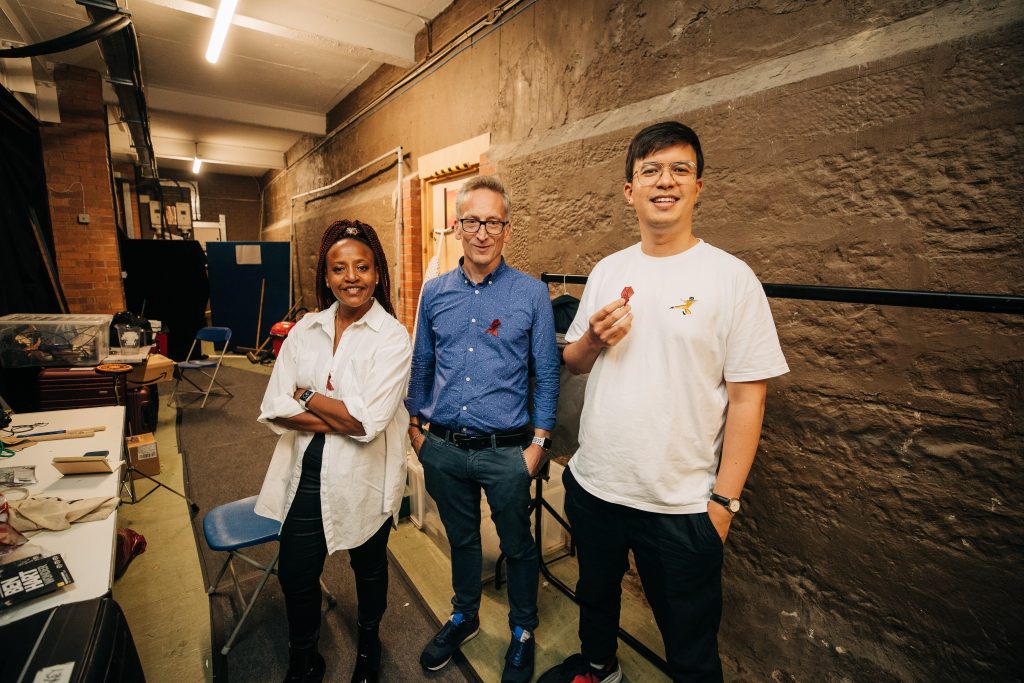 Tartan Ribbon Comedy Benefit, 2022
From
roll to r
ibbon
When we say that peoples' heart and soul went into the creation of our Tartan Ribbons, we truly do mean that. Ann Stewart, our longest standing volunteer, has hand-made the majority of our tartan ribbons for over 20 years:
I started when I was first too sick to work. I wanted something to do and was looking at volunteering. There was an advert in the Herald and Post for Waverley Care. I got in touch and was sent one piece of ribbon, a pin and instructions. I had to make and post back one ribbon to make sure it was right before they tasked me with more!
As Waverley Care expanded across Scotland, Ann's dedication to creating the Tartan Ribbon remained strong, straight from her own home:
Gradually the charity grew, and we made more and more. I would make them when talking to friends, when on the train and I've even taken them on a cruise - the captain commented on them and asked to buy one!
Ann believes that "making ribbons brings people together", and we couldn't agree more.
Ann received a British Empire Medal in Kirkcaldy for her tireless support of many organisations. We are honoured that she has chosen to volunteer with Waverley Care and has helped create our Tartan Ribbons for so many years.  
The Fringe
Since 1992, Waverley Care has proudly been the charity partner of one of Edinburgh's largest Fringe venues, The Pleasance.
The iconic emblem of the Tartan Ribbon was taken step further when The Pleasance created our famous Tartan Ribbon Comedy Benefit Show. Said to be the best night of comedy at the Fringe, The Tartan Ribbon Comedy Benefit has become a "much-loved staple" of the festival each year and is always guaranteed to be a sell-out performance.
Tartan Ribbon Comedy Benefit 2000, Courtesy of Lothian Health Services Archive, University of Edinburgh
The Benefit has been home to some big names in comedy over the years, with powerhouses such as Michael McIntyre, Katherine Ryan and Russell Howard (to name only a few) joining us for a night of laughter to raise much needed funds for the charity. As the comedians take to the stage, they are given their own Tartan Ribbon to wear to symbolise their support for Waverley Care's services.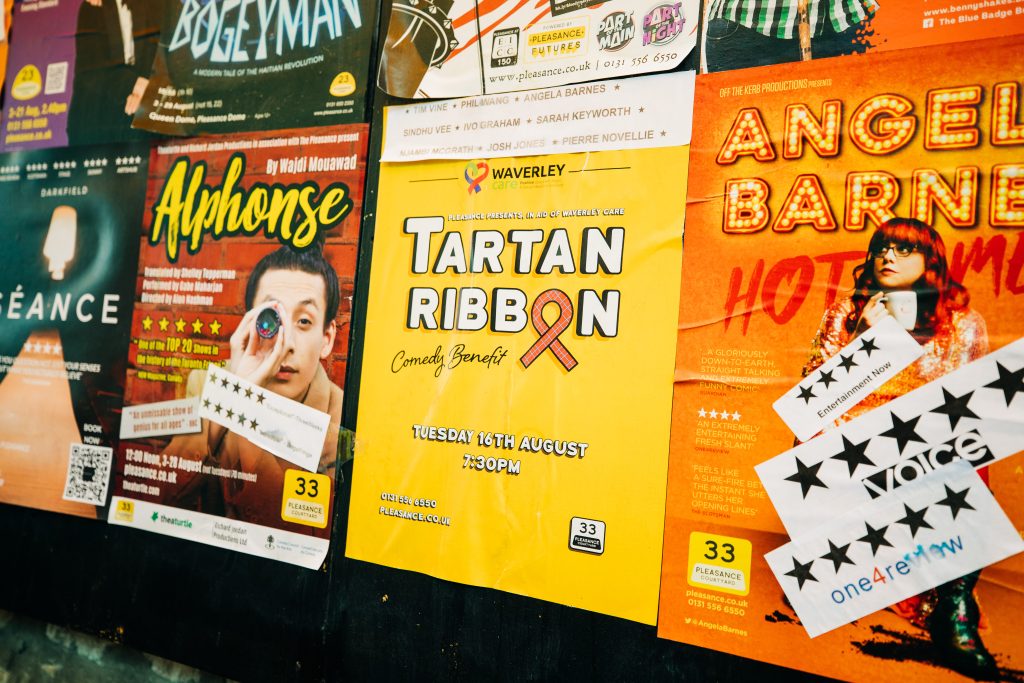 Tartan Ribbon Comedy Benefit, 2022
Our volunteers fundraise at The Pleasance's venues every day during August and collect donations from generous audience members. The Tartan Ribbon has always remained at the centre of this fundraising, with ribbons being handed out in their thousands every week to everyone that donates. Many of our wonderful supporters have collected these over the years and add new ribbons each time they return to The Pleasance.
Fringe, 2022